Linda Wild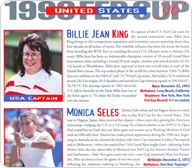 In 1994, she won two doubles events and was runner up again in Eastbourne, defeating top ten player Natalia Zvereva in the semi finals. At Wimbledon, Wild reached the third round, losing to Martina Navratilova. She continued her outstanding year in doubles by reaching the quarter-finals of Wimbledon. Linda finished 1994 with a career high ranking of 32.

Linda had three titles in 1995 and won the tour events in Nagoyaand Beijing. Earlier in the year, she won the doubles title in Prague with Amanda Coetzer.

In 1996, Linda reached the semi-finals of the Wimbledondoubles with tour veteran Liz Smylie and joined the prestigious "Last Eight" club at Wimbledon. In singles play, Wild won the tour event in Jakartaand upset Olympic Gold Medalist Lindsay Davenport to reach the Quarter-Finals of the 1996 US OPEN. Linda reached a career high ranking in singles of 23 and a career high in doubles of 17, making 1996 her best year ever as a pro.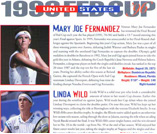 Linda was also named to the 1996 Fed Cup Championship Team. In the semi-finals, she teamed with Lindsay Davenport to win the doubles match, and in the finals, with Mary Jo Fernandez to win the doubles point against Spain.