Linda Wild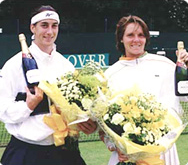 As an amateur in 1989, Linda was the most successful collegiate player on the women's tour, winning 2 satellite events and finishing as runner up in a third.

In her first event as a pro, the 1990 Virginia Slims of Chicago, she defeated defending French Open Champion, Arantxa Sanchez-Vicaro (Current World Ranking #2), and reached the quarter finals.

In 1991, Linda reached the third round of both Wimbledonand the French Open. At Wimbledon, she defeated the 12th seed, Natalia Zvereva, (Current World Ranking #9) before having to withdraw due to injury. As a result of quarter-final appearances in Oaklandand Indianapolis, Wild finished 1991 with a world ranking of 41.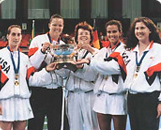 In 1992 at Eastbourne, (the Wimbledon warm up) she defeated tennis legend Martina Navratilova (Current World Ranking #4) in a thrilling three set match, before losing in the finals to Lori McNeil. In November, She reached the finals of the Virginia Slims of Indianapolis, defeating Katerina Maleeva.

Linda won her first major pro tournament in 1993. In July, she won Puerto Rico. Later in the year she won Sapporoand was runner up in Taipei. She finished 1993 ranked 45 in singles and doubles.